What can I say, we loooooove working with Betsy Petersen, her work is so fun to print with! Every time when I see a new illustration she made it makes me want to grab my screen print tools and print away. I was so honored she wanted to work with us for our book; The Ultimate Easy Screen Printing book. With her art we teach you step-by-step how to play around with different layers and textures, how to compose your own print and how to print outlines (I get so many questions about making outlines and Betsy's art is perfect for learning this!).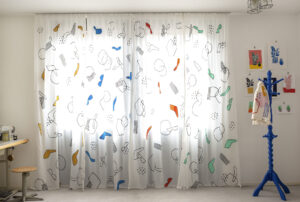 For our book we made 5 projects with her free templates from easy and quick to a big project: our HQ curtains. Being surrounded by Betsy's art everyday makes me so happy! A bonus about her work is that her shapes are easy to cut and so fun to print, almost instant result and I gotta be honest I don't mind that at all 🙂
Betsy illustrates for the amazing kids magazine Bravery, designs patterns and makes awesome murals.
To top it all off she also made a gorgeous card game for her own company @brighterfun for kids to learn how to express their emotions, my girls love playing this game. It is so versatile, they make up all kinds of fun new games with them as well. Not only is the game fun, it is also so good looking that I printed one of this cards on a dress for miss J. Still one of her faves!
So go check out Betsy's instagram and give her some love, I am pretty sure we are not done working together just yet 🙂
Oh and I love how she makes her mural mock-ups, first step to make dreams come true!
Admire her website here.
Our book is full of aaallll the tips and tricks and a gazillion amazing projects, get it here!
You can find all our (fun guaranteed) downloads here.