Here we go! The Bobbinhood Suit kids version is here.
After the launch of our Bobbinhood Suit earlier this year, we now present a version for 2y-13y olds! With both a long and a short sleeve. Woohoooo!
When I made my suit last spring, my daughter very much wanted one as well. And since I believe the Bobbinhood Suit pattern is such a versatile pattern (you can make it into a jacket, a dress and much more! – later more about that) I figured I neeeeeeeeded this pattern for my kids as well. We took our time to test it thoroughly (we are blessed with lovely testers) and are so happy with the result and so are all our little guinea pigs 🙂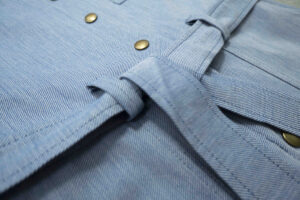 Let me tell you a bit about the pattern, it comes as a download so you can print it at home (A4 or letter) or run to the nearest copy shop and have it printed on A0. And of course, it comes with a famous 32 page Bobbinhood step-by-step manual. So no worries, we guide you through the entire process.
The pattern is available in size 2/3y (92/98) to 12/13y (152/158). If you'd like more information about which size to choose, you can find our size chart both here and in our manual. In the manual we explain what you need, how to choose the right size and every step after that. There even is a workflow chart to help you keep track of this project.
Let us show you some of the possibilities:
Our pattern comes with both a long sleeve – A (right) and a short sleeve – B (left). The long sleeves have cuffs and slits.
There is an option to add darts in the back (right) for a more fitted style or hang loose without them (left).
Pants are slightly tapered, wear it long (right) or roll up for a cropped look (left).
Make the suit true to size (left) for a more fitted look, or size up (right) for a relaxed fit.
Just as with our grown-up Suit we're planning on making a lot of hacks for the kids version. Thinking dresses and a jacket (My youngest already requested a maxi dress: 'I don't do pants, mom'…. ;))
Take a look at what our lovely testers made here! And read more of the history of the suit and why we are obsessed with it here.
You can find the pattern in our shop.