Oh my, oh my…. it is finally here: our first pattern! As a designer I have always drafted my own patterns, it was a big dream of mine to make them available for a wide size range (in this case: XS-5XL/34-54). With Bobbinhood we want to empower and create a happy resilience against the dark fast fashion industry. Bringing sewing patterns has been the next step we have been working on this past year.
I really wanted a coverall as my Bobbinhood uniform so last year I asked Celina Bailey to draw the patterns of a design of mine. I loved how they turned out and wear them pretty much daily. Over the last year we have re-designed our coverall until I was completely satisfied and chose the Bobbinhood suit to be the first of many versatile patterns to come out! This one especially is close to my heart. As a designer I have always felt inspired by working clothes: clothes designed with function. The coverall, overall, boilersuit, worksuit, whatever you want to call it has always been a huge source of inspiration for me.
Let me show you an ultra quick history of the coverall.
Around the end of the 19th century a brave group of women fought for equal rights. It was in the first wave of feminism. Women wearing pants was a crazy idea at the time and the women wearing pants grew out to be an important symbol for this movement. I am forever gratefull to those women!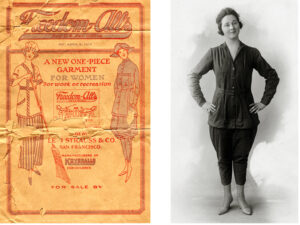 During the first world war many women took over the jobs of the many men going to war. Women were now working in the fields, the factories and doing many jobs then considered 'mens' jobs (lot's of these jobs are still considered mens jobs, sigh…). Designers and clothing companies turned this into a fashion trend. Check out these overalls by Levi's in 1918 at the end of the world war 1, called the 'freedom-alls'. Gotta love that name 🙂
In the forties, during the second world war, women took over the jobs again while men went to war. For example, hardly any women worked in the aviation industry before and after the war, during the war 65% of the workforce were women. It always makes me sad that we apparently need a war to realize women can handle these jobs just as well, and even sadder that as soon as the war was over women were forced to leave their jobs again so men could take over. But for now let's enjoy these gorgeous and inspiring pictures and show them to all our boys and girls.
I love the pleated sleeve, the blue color, that belt…!
Coveralls are used and designed by people making things: artists, mechanics, factoryworkers, painters even pilots & astronauts wear coveralls to work, in function of their work. Couldn't keep you from these inspiring women in overalls!
As a designer I strongly believe we all need a uniform to create in, to feel powerful in, to play in, to whipe your ink stained hands off on or to go out in.
This pattern will take care of all of those things.. Make it in a fine silk to wear with your most precious high heels, make a sturdy one in denim to go with your sneakers or make one with your own printed fabric anything goes.
Together with our testers we created this pattern that is available now. Credits: Burgundy panther print @destoffenkamer, linnen blues-ish suit with white buttons@mietaertsen, pink suit with back print@madebytoya, flower and fuchsia suits@madelinedestoffenmadam, lightning/tiger suit blue denim by yours truly.
It comes with a very clear, step by step manual for the 3 versions. Here are 4 pages of our 28 pages long manual. Every step is clearly illustrated and explained and we even added a WORK FLOW to keep track of your process (we are addicted to WORK FLOWS :)). The pattern is available from size XS-5XL/34-54 and we also explain how you can make the pattern perfect for your unique size. The download comes as an a4/letter file to print at home and as a A0 file to print at a copyshop!
Another cool thing about this pattern is that is it so easy to hack.
Our accomplice Marleen already turned it into an awesome jacket (hack instructions will follow soon) Here a sneakpeak of Marleens creation.
We are also thinking maxi-dresses, shirts and all kinds of awesome hacks to fill your wardrobe (and ours, yay!!!). Be ready for more! Wohooo!
We can't wait to see all your versions! Shop our pattern here and tag us #wearebobbinhood and #bobbinhoodsuit!
Pic & suit by @madebytoya.