Time to introduce our lovely testers and the beautiful Bobbinhood Kids Suits they made. We had a great variation of testers, everything from beginner to experienced, we even had an 8 year old making her own suit.
Sarah made the suit for her boys without the darts and went for short sleeves. She made a super fun print on the back and the pockets. The fabric is a mid-weight canvas from the Fabric Counter in Dublin. I heard they won't take them off 🙂
Also belt-wise there are options! Dani chose to make her version without. She picked a super beautiful linen, sized up one size and left out the darts to stick with the relaxed fit. And to top it all off she printed one of her sons' artworks on the back with our screen print kit. We are ultra proud of Dani, she considered herself a beginner and had only sewing experience with tricots. She told us she loved our step-by-step manual and it took her smoothly through the entire process. Stuff like that makes us ultra happy!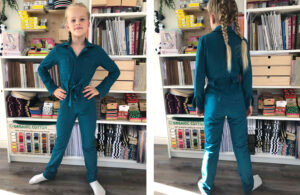 La fete went for a light/medium weight denim and made a version without the darts and belt for a less fitted look. She also told us her girl wore it for a couple of days in a row, these are always the biggest compliments!
Inneke made a long sleeve suit for her boy with the coolest print on the back. She used a medium weight denim and went for no darts and belt for a comfy fit. He definitely looks like the leader of the pack to us 😉
De Stoffenkamer helped us out with a quick test for her lovely almost three year old. She used this super soft blue corduroy from her own amazing shop in Ghent.
Toya made a Bobbinhood Suit for both her kids. For her oldest, she picked a cotton drill from a charity shop tablecloth (how awesome is that!). For her youngest, she went with a double gauze. She used our kit to make prints on both of them, wohooooo!
Niki Schoondergang went with this lovely floral in double gauze. No belt and a comfy fit, she added a waist band and we think it looks cooool!
Ella (8) even made her own suit! She used a winter viscose in this bold all-over print. Super megaaaa proud of her!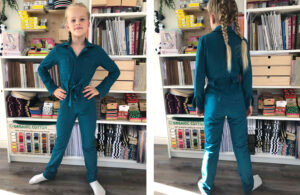 Ansje Handmade is doing a quick fit before it's time for buttons. She used a sturdy denim jersey from her own awesome shop and made one size smaller because of the stretch in the fabric and her girl likes things fitted.
Doesn't this make you smile? Such a happy suit with so much gorgeous detail. Anja Nelis combined this Cotton Gabardine Twill in a floral print (link) with a pinky-orange for the belt and the beautiful details.
Ofcourse we made many test models here in the HQ. I made my oldest girl two versions on her request (and by her design!). One true to size in a white canvas with a bold zebra print (printed with our kit!) She wanted it with a black 'back pack belt'. I made this version without the darts and lengthened it about 10cm/4".
And one in a size up, made in a gorgeous flowy denim from ansje.eu with a skater girl on the back. No alterations were made.
As you can see this pattern works super beautifully with different kind of fabrics, prints, and patterns. You can find it in the shop.
Anja Nelis and Niki Schoondergang couldn't stop and even made their very own hacks already! Check out this cool jacket and cute maxi dress!