Working with Caroline Corrigan is always a dream. Her work is just beautiful and so darn printable! I had in my mind for a while now to print a tablecloth filled with an awesome breakfast and Caroline's work is just perfect for that. I was over the moon when she wanted to work with us again (she is also one of the 14 international artists that worked on our book with us). When I asked her if she could make us a breakfast themed print, she went aaaall the way and designed 23 (!!!!!) items for the ultimate breakfast table. Her designs are so inviting to work with, pure joy!
When I started playing around with her lovely illustrations to design the print for our table cloth, I thought it would be a fun idea to make a booklet out of it – with all the breakfast goodies to cut out so you can create your own dream breakfast! We made you this 'Let's print a yummie breakfast' download to cut and design away. Make your breakfast on a table cloth, socks or even your undies! To download, just go here.
It was so fun to do with the kids! It kept them busy for over 2 hours (which is a blessing these Corona days, isn't?) and then the next day they went at it again! My four year old loved cutting and gluing, my 10 year old was really 'making the table' for everyone: 'You sit here mom, you love pancakes right? Dad loves a croissant and I want juice.' It was the sweetest thing! My little one even designed a 'breakfast face' tee! I had a blast too, designing our easter table cloth and I def need those undies with coffee on them 😉
And because in these daunting times I feel what really keeps my mind off things and makes me happy, is to make, make, make, so we also made them into free templates! They will be in our newsletter that goes out tomorrow! Not on the list yet? Subscribe here! The download comes with 23!!! breakfast items to print, print them aaaaalllll or just print one, whatever suits you!. Aaaaaand since our stencils are compatible with cutting machines, we even made an SVG file for you (suuuper handy if you are the lucky owner of a cutting machine). We have the Cameo Silhouette and love it.*
After I designed our breakfast table I let my trusty silhouette cameo cut all the stencils and mixed all the colors together with my little one. Normally I mix colors in 10 minutes but with my little assistant it took me 2 hours, these times are definitely forcing me to be less impatient and every activity that takes a long time gives me immense joy now, haha.
I normally always print in my studio but now that we have to stay home I placed our table cloth (and a bounce layer ofcourse) on our table and printed away! The kids helped a bit and played around, it was fun!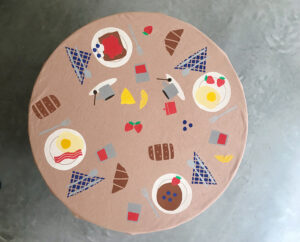 I am so happy how it turned out! And I just know this table cloth will be all our favorite and will help make beautiful memories. They already each have their favorite print! I am also planning on printing the napkins because I didn't use all Caroline's illustrations and I really want to print the milk bottle, the cafetière and much more!
*If you're interested in getting one, see if you can support a small local business owner instead buying from the big you know whos.