Caroline is an Albany, NY based illustrator. She describes her work as simple, human and imperfect. I just love that so! Just like Betsy (another artist from our book), Caroline is one of these artist where you just have to print when you see her work. It is almost contagious if you get my drift! For our book she made a print called 'faces' built from different elements. We printed sooo many projects with them! Socks, pouches, tees, denim shirts… Her entire chapter in our book is about printing on ready made things and all the challenges you stumble across doing this (think, seams, zippers, stretchy material etc etc). It is a chapter filled with all the fun tips and tricks to make our easy screen printing life even easier!
Caroline designs the cutest brand identities with kick as business cards and logo's (check her instagram!). We also love this personal project where she makes illustrations of Italian groceries.
We want all of these illustrations. Stat.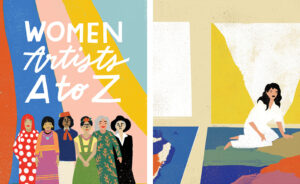 One of her latest projects is this gorgeous book that she fully illustrated. It is one of my girls favorite books. We even did a couple of art projects inspired on the amazing women featured in it and illustrated so gorgeously by Caroline. My littlest said, after I read the book to her, 'I think it is best if I become an artist mom! I think I am already one.' My heart might have melted.
When we finished working on our book together she mentioned she would love to work on a breakfast themed print together. I always remembered this and here it is! Wohoooooo!
Admire her work here.
Our book is full of aaallll the tips and tricks and a gazillion amazing projects, get it here!
You can find all our (fun guaranteed) downloads here.